Yardley, Morrisville Pa.19067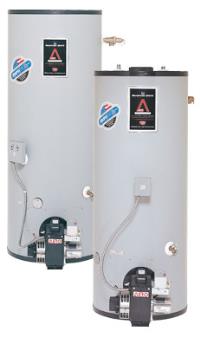 JC Heating Installs and Repairs Oil Fired Hot Water Heaters
Energy Saver Oil Powered
Oil Heats Water 3 to 4 times faster than other fuels, resulting in higher recovery rates.

Factory installed dielectric fittings.

Factory installed Hydro jet total performance system.

Two protective anode rods.

Brass drain valve

Stainless Steel Baffle.

Rugged, durable and renown for their high output, these water heaters meet the highest standards in quality and dependability.
Up to 30% Of Your Energy Cost!
Your water heater is the second only to your home's heating and cooling system in energy cost( as much as 30% of the monthly), yet is the lowest priced of any major home appliance. That is why selecting the right water heater for your family's lifestyle is so important in reducing your monthly energy bill. Your decision should boil down to the lowest cost water heater - not the lowest price water heater. A water heater with the right tank capacity, insulation, BTU output and anti-corrosion protection can save hundreds of dollars over the life of your new heater.
Pay attention to the recovery rate and first hour ratings when selecting a new water heater. Recovery is the models ability to replenish hot water as it draw from the tank. First hour output is an estimate of how much hot water will be produced during the first hour of peak usage. Choosing the best recovery and first hour ratings of your new water heater helps ensure you'll never experience the shock of a cold water shower.
Why doesn't my old water heater make as much hot water as it used to?
You might have sediment buildup in your tank. As water heaters age, they tend to accumulate sediment and lime deposits. If the heater is not cleaned periodically, the sediment may rise to a level that will act as a barrier between the burner and the water, making it harder to heat. An article published in a national ASPE plumbing journal states: for every half inch of sediment on the bottom of a gas or oil fired water heater, it requires 70% more fuel to heat the water,
For Sales or Service Call our Service Department at 215-945-4833