Water Heaters Repairs - Water Heater Replacements - Bucks County Pa.
Mobile Home Water Heaters Repairs & Installations
We Service All Makes and Models
JC Heating offers a great selection of Residential & Commercial water heaters.
Choose from Oil, Gas, Electric, Propane or Tankless Water Heaters
Bradford White Electric and Gas Fired Hot Hot Water Heaters
Water heaters are the second biggest energy users in a typical home, next to heating and cooling systems. Natural gas water heaters cost less to operate than electric waters heaters, on average, and can heat twice as fast.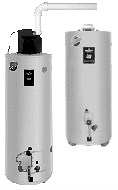 Gas Water Heaters & Venting
All natural gas water heaters must be vented to the outdoor to remove the by-products of combustion. Atmospherically venting gas water heaters is the most common type of venting used. Since flue gases from the water heater is warmer that the surrounding air, they will rise naturally through a vertical vent pipe or chimney to the outdoors. Installation and operating cost tend to be moderate because these units do not use fans or mechanicial boosters. Some gas water heaters may be sidewall vented using a power fan, these water heaters do not need a chimney, but are more expensive.
Storage tanks are normally made of steel, with insulation lining the outer tank to prevent heat loss and glass or other material lining the interior of the tank to prevent corrosion. Some Tanks contain an anode rod, composed of one or more material, which attracts corrosion away from the rest of the tanks components.
The gas burner is lit by a standing pilot or by a electronic or spark ignition.

Electric Water Heaters
Electric models offer the convenience of electricity. Available in single element and double element models, these water heaters give you the power you need to heat your water with electricity.
We Repair and Install All Oil, Gas and Electric Water Heaters.
Free disposal of old water heater with new water heater installation.
Recycling
Your old water heater will be taken to a local recycling company for proper disposal.
Bradford White - John Woods - A.O Smith - Rheem - Ruud - State - And More!
Operating Cost - Many consumers believe mistakenly that the best buy for a new water heater is the one with the lowest purchase price. The cost of owning a home appliance has three components: the initial purchase price, repairs and maintenance, and operating cost. The cheapest price is never the best buy.
When it comes to gas or electric water heater repair and replacement, you can count on JC Heating. We price our water heater repairs and replacements by the job, not by the hour. This saves you money.
Call JC Heating @215-945-4833 for all your water heater needs.
Save $50.00 OFF Any Water Heater Replacement
Mention Promotion 091587
Not to be combined with any other offer, must be presented at time of installation
We're proud to provide water heater repairs, replacements and installations to the following communities in Bucks County, PA:
Bensalem Pa, Bristol Pa, Churchville Pa, Cornwells Heights Pa, Croydon Pa, Doylestown Pa., Fairless Hills Pa, Feasterville Pa, Furlong Pa, Jamison Pa, Langhorne Pa, Morrisville Pa, New Hope Pa, Newtown Pa, Richboro Pa, Trevose Pa, Tullytown Pa, Warminster Pa, Washington Crossing Pa, Warwick Pa, Wrightstown Pa, Wycombe Pa, Buckingham, Eddington Pa, Edgely Pa, Fallsington Pa, Feasterville Pa, Holland Pa, Hulmeville Pa, Ivyland Pa, Levittown, Southampton Pa, Middletown Pa, Northampton Pa, Oakford Pa, Penndel Pa., Pineville Pa, Penns Park Pa, Trevose Pa, Upper Makefield Pa, Wrightstown Pa and Yardley Pa. and surrounding area.