JC Heating Certified Chimney Sweep
Chimney Repairs in Bucks County, Pa.
Frequently Asked Chimney Questions
What is an oil or gas chimney relining system?
Before we explain what a chimney relining system is, let's learn what a chimney lining system is. Most masonry chimneys are constructed with an inner liner of clay tiles. The purpose of this liner is to keep the heat of flue gases inside the chimney so the chimney can't overheat the nearby combustible material, such as framing and walls of your house, and possibly cause a fire. The liner also keeps carbon monoxide, moisture, smoke, creosote and other products of combustion from seeping through the bricks and mortar of your chimney and leaking into your home. As you can see, a secure lining system is crucial to the safety and well being of your home and family.
This brings us to a chimney relining system. What is it? Simple, it's what you need when the original clay liner was either never installed, or when the tile liner cracks, crumbles and deteriorates over time. It was common for masons to dry stack the clay tiles (not using cement to seal the tiles together and create an airtight seal) Water damage, chimney fires, or just age can cause the deterioration of your clay liner. When that happens the National Fire Prevention Association (NFPA) code 211 says it must be replaced. The most popular, effective and economical way to reline your chimney is with UL listed Homesaver Stainless steel relining pipe. Home Saver has been used for over 20 years in chimneys throughout North America and is one of the industry leaders. The repair is completed quickly and with minimal expense compared to rebuilding the chimney from the ground up.
Traditional clay liner inside Home saver flexible stainless steel Chimney Liners, Z-FLEX CHIMNEY LINERS
a brick chimney Chimney relining pipe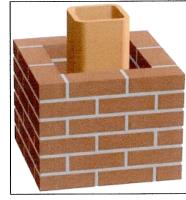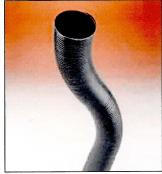 Wondering how a chimney that looks so good on the outside can be faulty and even dangerous on the inside?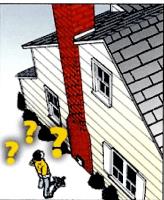 "But my furnace chimney looks fine on the outside."
Many chimneys venting gas and oil furnaces or hot water heaters may appear to be in good condition on the outside. But, inside it could be a completely different situation. Yesterday's chimneys were not designed for venting today's more energy efficient appliances. Let's take a close look at what really counts...the inside.
Now look inside, see the problems?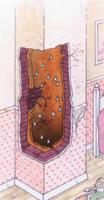 A look on the inside of this same chimney shows acid-leaden residue from the furnace that has attacked the flue. The original clay liner has eroded away: pieces of it are even missing. (Older chimneys might not even have a clay liner.) Mortar and bricks are loose and falling, and moisture has leeched through to the home's interior walls.
With continued use, more erosion will take place, possibly leading to leaks in the flue, complete flue blockage, or possibly even carbon monoxide poisoning of the home's occupants.
Chimney problems can cause a loss of life and property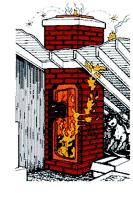 It happened thousands of times last year - chimney defects resulted in home fires.
It doesn't take much to start a home fire...a spark fitting through a crack in the chimney wall into the attic...a chimney ember igniting a creosote fire which then climbs the full height of the chimney "looking" for a breech in the chimney walls when a clay liner is missing or damage.
With continued use of this chimney, any of these conditions could lead to a fire.
Revitalize your chimney with a Home Saver Chimney Relining System.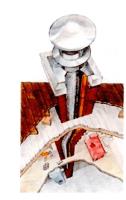 Home Saver will revitalize your chimney. We suggest a liner that is made of either 316Ti alloy stainless steel or AL294C stainless, depending on your type of furnace. These alloys were developed specifically to resist corrosive flue acids A liner acts as a barrier between the flue gases and the defects in your chimney walls. Not only will it add to the safety of your home and family, it will also increase the resale value of your home. And your furnace will run more efficiently.
Home Saver's patented construction is unsurpassed in flexibility and strength. This dependable, high-quality product comes with the best lifetime warranty in the industry.
Our technical staff offers advice on any chimney or heater problems you may have.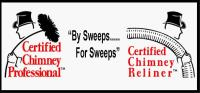 Call our Service Department at 215-945-4833 or 215-493-7455
For more information, fill out this form and someone will contact you.
What is an Orphaned Water Heater?
An orphaned water heater is when the furnace is replaced with a side wall vent model leaving the old "atmospherically vented" gas water heater alone with a too big of a chimney or flue for the small amount of heat output it releases alone. An orphaned water heater in an oversized chimney creates a huge moisture problem. The problem also lays in the lack of draft when the furnace isn't running or in summer months and the negative pressure in the house doesn't allow the flue gases to vent out properly. The draft being reduced will result in water vapor found in the flue gas combining with the sulfur in the flue gas to created sulfur acid that will ruin your flue and chimney.
Home Saver is a trademark of the Home Saver Company, manufacturers of some of the finest chimney relining materials available.
Z FLEX is a trademark of the Z flex Company, manufactures of some of the finest chimney relining materials available.
We're proud to provide Chimney Inspections, Repairs, & Chimney Liner Installations & Service to the following communities near me in Bucks County and Montgomery County, PA:
Andalusia Pa, Bensalem Pa, Bristol Pa, Cornwells Heights Pa, Croydon Pa, Doylestown Pa., Fairless Hills Pa, Feasterville Pa, Furlong Pa, Jamison Pa, Hatboro Pa, Horsham Pa, Langhorne Pa, Morrisville Pa, New Hope Pa, Newtown Pa, New Britain Pa, Richboro Pa, Trevose Pa, Tullytown Pa, Warminster Pa, Washington Crossing Pa, Wrightstown Pa, Wycombe Pa, Buckingham, Eddington Pa, Edgely Pa, Fallsington Pa, Feasterville Pa, Holland Pa, Hulmeville Pa, Ivyland Pa, Levittown, Southampton Pa, Middletown Pa, Morrisville Pa, New Britain Pa, Northampton Pa, Oakford Pa, Parkland Pa, Penns Park Pa, Pineville Pa, Penndel Pa., Wrightstown Pa. and Yardley Pa. and surrounding area near me.