System 2000 Factory Authorized Dealer
System 2000 HVAC System Installations, Repair & Maintenance in Bucks County, Pa.

Oil, Propane or Gas System's
System 2000 Boilers Installation and Replacement
System 2000 System Repair and Maintenance
Our factory trained and certified HVAC technicians have the training to service any heating and cooling equipment.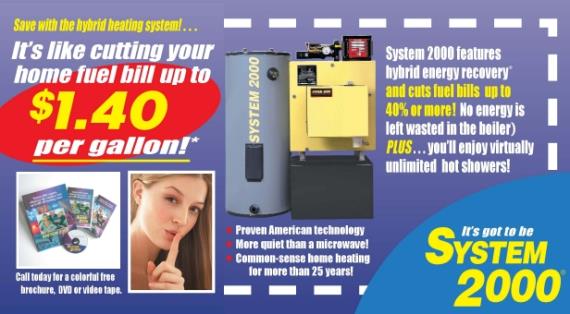 Science Behind System 2000 Saying up to 40% or More off Heating Bills

System 2000 from Energy Kinetics is the first fully integrated heat and hot water system on the market. System 2000 is activated only when you need heat or hot water. After heat and hot water needs are satisfied, System 2000 runs a Hybrid Energy Recovery cycle that puts every ounce of heat left in the boiler to work for you.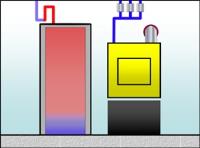 Stage#1: System 2000 Sits Cold
No call for heat or hot water, all of homes heating zones are currentry satisfied.
System 2000 sits idle at near room temperature awaiting instructions from Digital Energy Manager.
Unlike most boilers that maintain temperature in the boiler 24 hours per day, no energy is being expended to keep the boiler heated. You wouldn't let your car run 24 hours a day in case you wanted to go to 7/11 for a gallon milk. Why would you let your boiler run 24 hours a day, just for some hot water?
Hot water is stored in the heavily insulated storage tank and is ready for immediate use.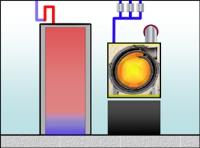 A living area in the home is below the thermostat setting, resulting in an initial call for heat.
The Digital Energy Manager interprets thermostat call and begins pre - heating the boiler.
With water circulating in the boiler, System 2000 reaches operating temperature in less than 90 seconds.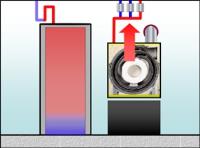 System 2000 has generated heat within the boiler.
The zone calling activates, quickly heating the living area to the desired temperature.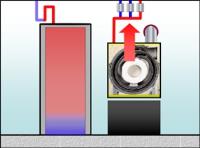 Stage#4 Hybrid Energy Recovery or Thermal Purge
The thermostat in the living area has been satisfied.
The Digital Energy Manager anticipates the end of the heat call and turns the burner off. It continues to circulate water from the boiler through the last active zone until the boiler is cool and the room temperature is gently heated at the desired temperature. This improves home comfort and extends the time until the next call for heat-two great benefits in comfort and energy savings. System 2000 then sits idle waiting for the next call for heat.
This unique combination of the Digital Energy Manager and low mass boiler is a significant contributor to System 2000's extraordinary annual efficiency.
System 2000 minimizes chimney loss with a unique counterflow design that incorporates over 10 feet of heat transfer passage.
Almost no jacket loss
System 2000 has 2-4" of insulation all around, and is raised 18" off the cold floor.
No draft regulator or draft loss.
System 2000 advanced design does not require draft regulation. Draft regulation is like leaving a window open to the outdoors that suck warm air out of your home in order to control chimney draft for the boiler.
System 2000 had the lowest idle loss of all system tested in the independent Brookhaven National Labs study. Plus, the System 2000 patented spiral boiler holds only 2.5 gallons of water and heats up to six times faster than the competition. Combined with our high performance hot water system, System 2000's Hybrid Energy Recovery captures heat that other boilers simply waste, and virtually eliminates idle loss while meeting all your heat and hot water needs.
About Hot Water - Endless Hot Water Showers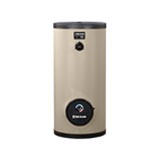 With System 2000, hot water is readily available through a high performance hot water storage tank.
System 2000 replenishes hot water as needed, and anticipates when no additional hot water is required. At the end of a hot water call, the Hybrid Energy recovery cycle recovers heat left in the boiler and delivers it to the hot water storage tank so no energy is left wasted in the boiler.
Whisper Quiet System 2000 is virtually silent - it runs more quietly than a microwave oven!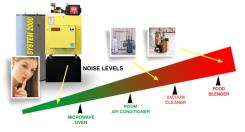 THE ELECTRIC HOT WATER ENERGY PIT:
With conventional gas or oil systems, it's possible to make general comparisons on efficiency. However, estimating the efficiency of electric hot water is more complicated because electric power is drastically more expensive than either gas or oil.
For example, a typical electric water heater can legally display an energy guide sticker that states its efficiency rating is 93%. On the surface that sounds impressive. However, that rating means only that once electricity is connected to the heater, 93% of the electricity is converted to heat. What is not represented in this energy guide rating is the staggering fact: electricity itself is 4 to 5 times more expensive than either oil or gas. That means electric hot water costs 4 to 5 times more than System 2000 hot water!
Made In USA for over 35 years
Chimney or Sidewall Venting
System 2000 Limited Lifetime Warranty

Energy Kinetics provides the best pressure vessel in the industry along with a lifetime limited warranty. Please see warranty.
$0 down and attractive financing options for qualified customers!
Payment vary; subject to credit approval.
Contact us today for more information
For more about oil fired, propane or gas hot water systems,
Residential and Commercial
Call JC Heating & Cooling a name you can trust.
For Sales or Service Call us Today at 215-945-4833.
Servicing the Bucks County area for over 48 years.
If you need a qualified hvac contractor for your next system you come to the right place
For over 48 years we're proud to provide System 2000 Boilers repairs, sales, installation and service the following communities in Bucks County & Montgomery County, PA:
Bensalem Pa, Bristol Pa, Buckingham Pa, Chalfont Pa, Cornwells Heights Pa, Croydon Pa, Doylestown Pa., Eddington Pa, Fairless Hills Pa, Feasterville Pa, Furlong Pa, Hatboro Pa, Holland Pa, Horsham Pa, Huntington Valley Pa, Jamison Pa, Langhorne Pa, Levittown Pa, Morrisville Pa, New Britain Pa, New Hope Pa, Newtown Pa, Penns Park Pa, Pineville Pa, Richboro Pa, Rushland Pa, Solebury Pa, Trevose Pa, Tullytown Pa, Warminster Pa, Washington Crossing Pa, Wrightstown Pa, Wycombe Pa, Willow Grove Pa, Eddington Pa, Edgely Pa, Fallsington Pa, Hulmeville Pa, Ivyland Pa, Southampton Pa, Middletown Pa, Northampton Pa, Oakford Pa, Penndel Pa., Wrightstown Pa. and Yardley Pa..