CHIMNEY FIRES, CRACKED FLUE TILES
In most cases cracked tiles are caused by old age and thermal shock. Thermal shock is the severe temperature when soot or creosote ignite's in a chimney or vent during a chimney fire. Imagine the same type of cracking when you put a hot glass into cold water, causing the glass to crack and shatter. Although rare, settling of the house or lighting strikes will cause crack flue tiles.
Are hairline cracks in my flue tiles serious?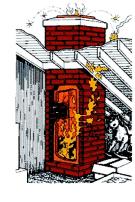 Yes, they are! Tile liners expand and contract as they heat up and cool down. This means that when your chimney inspection is done, your tile liner is at its coolest point, and therefore, the cracks are at their smallest point. When the tiles heat up again, the cracks will open up, allowing creosote, soot, gases and heat from inside the flue to damage the house.
For all your Chimney Inspections, Chimney Caps, Chimney Liners and Chimney Repairs. We are Qualified, Certified Chimney Sweep and Ethical. License and Insured

For Sales or Service Call our Service Department 215-945-4833
We're proud to provide chimney repairs & chimney liners installation to the following communities in Bucks County, PA:
Andalusia Pa. Bensalem Pa, Bristol Pa, Churchville Pa, Cornwells Heights Pa, Croydon Pa, Doylestown Pa., Fairless Hills Pa, Feasterville Pa, Furlong Pa, Jamison Pa, Langhorne Pa, Morrisville Pa, New Hope Pa, Newtown Pa, Richboro Pa, Trevose Pa, Tullytown Pa, Warminster Pa, Washington Crossing Pa, Wrightstown Pa, Wycombe Pa, Buckingham, Eddington Pa, Edgely Pa, Fallsington Pa, Feasterville Pa, Hatboro Pa, Holland Pa, Hulmeville Pa, Ivyland Pa, Levittown, Southampton Pa, Middletown Pa, Northampton Pa, Oakford Pa, Penndel Pa., Wrightstown Pa. and Yardley Pa. and surround area near me.