Great Service Stories
JC Heating & Cooling is Service You Can Count On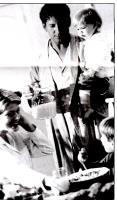 During the Winter of 1998, the Parfit Family of Langhorne experienced a heating system breakdown. It was around 7:30 PM when Mr. Parfitt called J.C. Heating's 24-hour emergency line, (215) 493-7455. He was connected with company President Joseph Clemenson.
"Joe, my heat isn't working and I need someone to come down right away. I have three small children so it can't wait."
"No problem," said Joe. "We'll dispatch a technician and truck immediately."
However, this wasn't a typical night. The area had experienced an unbelievable

38 Inches of snowfall

,

and all roads in the area were closed. In fact, the governor had declared a state of emergency.
"But Joe, my road hasn't been plowed yet," said Mr. Parfitt. "I don't know how you're going to get through."
Joe reassured him, noting that the 4 x 4 service truck he was sending had a snow plow attached. "Don't worry. Nothing will stop us from getting to you."
Sure enough, our technician and truck conquered the elements and arrived at the Parfitt household. The system was repaired by 11 PM and everyone was soon warm and cozy again.
J.C. Heating was happy to help the Parfitt family, and we vow to be just as responsive to all of our customer's needs. At J.C. Heating, nothing stops us from keeping you comfortable.