44 Years of Experience! Call Us Today

215-945-4833
JC Heating Located in Levittown Pa. provides heating oil tank inspections, heating oil tank repairs, soil remediation and heating oil tank installations in all of Bucks & Montgomery County, Pa.
TESTING RESIDENTIAL UNDERGROUND OIL TANKS FOR LEAKS
Can I test my underground heating oil tank for leaks without digging it up?
Yes, but it may cost you less to simply remove your heating oil tank from the ground. It is important to consider that no test can predict what will happen next year, next month, or even the next day. Your money may be better spent on heating oil tank removal or heating oil tank replacement since you will have to dig the heating oil tank up anyway if the test reveals it is leaking.
A simple and inexpensive test is to test the oil at the bottom of the fuel oil tank for water. Ground water leaking through a hole in the fuel oil tank always settles to the bottom of the tank. Water finding paste will detect the water. Testing the soil for oil may also indicate a leak.
Vacuum and pressure tests are available but are usually very expensive and do not predict that the tank will not leak in the future. In Bucks County, we have a lot of clay based soil. This soil packs around and may partially or temporarily clog the holes. Vacuum and pressure test may give false negative results under these conditions when the oil tank is actually leaking. Vacuum and pressure tests may actually cause an old weak heating oil tank to leak.
Soil Sample Procedure
One or two core borings are drilled and samples taken from the approximate depth of the bottom of the oil tank. One boring is drilled off each end of the tank. Locations may vary depending upon soil conditions and ground slope. Samples are analyzed at an independent test laboratory. The soil sample results are expressed in PPM (parts per million) of hydrocarbon to soil ratio. There is a 3-10 business day turn around on all soil sample results. Clearly understand that these results are representative of the areas sampled only and do not offer or imply a guarantee that the subject tank system has not, does not, or will not leak. Only the soil sampled was tested if there is a TPH level present. The inspection and report do not express or imply any past or future responsibility as to the condition of the soil surrounding the underground oil tank system. A site with an elevated TPH soil sample should be excavated (starting at the point of elevated sample) to determine the source and extent of contamination.
Can I just empty the oil from the tank and leave it underground?
Yes, but there are strict requirements that usually cost more than removing the heating oil tank. Before a heating oil tank can be left in the ground, All applicable authorities having jurisdiction shall be notified and a permit applied for, you will need to remove all flammable and combustible liquids and residues from the tank and piping. cut it open and clean it and fill the tank with an inert solid material, and the area around it checked for contamination. Filling the tank in place can cause future problems if a cleanup is needed or if there is excavation at the property. Finally, if you sell your home, a bank, insurance company or the buyer may ask for more environmental testing or the removal of the heating oil tank.

Real Estate disclosure laws require the seller of any property to inform any buyer that a abandoned underground tank exist on the property.
Important Code Changes: NFPA 31 (National Fire Protection Association) - 2011 Edition
Abandonment of Tanks and Related Equipment.
Section: 7-2 If a tank and its related piping is abandoned for what ever reason, the tank and all piping connected to it, including the outside fill and vent piping connected to the appliance, shall be emptied of al contents, cleaned, removed from the premise or property, and disposed of in accordance with all locale, state, and federal rules and regulations.
How will I know if my tank has leaked?
A damaged fuel oil tank or piping, soil that is stained or gives off strong oil odors, sheen on the groundwater, or soil test results are all indicators of fuel oil tank system leaks.
What if contamination is found?
First, don't panic. The problem could be minor and relatively simple to correct.
Are there any state funds available to help with the cost of cleanup?
The Commonwealth of Pennsylvania has grants of up to $4,000 for this work. However, a $1,000 deductible, must be paid first by the tank owner. Funding provision for this program has been extended up to June 30, 2012. Funds are limited. The funds are condsider income and are taxable for Federal and State Income tax.
We can provide Soil Excavation and Soil Disposal and Bio-remediation.
Bio-remediation is cost effective and is generally 60-70% less costly than soil excavation, digging and hauling away soil.
Bio-remediation is the process of using naturally occurring, safe and beneficial organism to degrade environmentally harmful contaminants and turn the into non-toxic compounds. In particular, these organisms will break down most petroleum hydrocarbons and transform them into carbon dioxide and water. The process of Bio-Remediation Augmention is approved and listed as one of the United States Environmental Protection Agency (EPA) and DEP innovative technologies.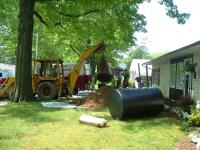 In addition to installing and removing both aboveground and underground heating oil storage tanks, we also provide Bio-remediation, site remediation, excavation and transportation of soil to a licensed recycling facility and laboratory analysis.
JC Heating is a professional oil tank removal and installation company.
JC Heating provides testing for water in the oil tank and performs soil testing, heating oil tank removal and replacement.
Tank Removal for Realtors in PA
We work with Realtors throughout Bucks County and Montgomery County PA and the region to provide heating oil tank removal services. Our prompt services and professional reports provide the level of service needed for real estate transactions.
If you have any questions, please call us at 215-945-4833.

If you need a qualified hvac contractor for your next system you come to the right place.
Financing is Available
For over 44 years we're proud to provide heating oil tanks repairs & installation to the following communities in Bucks & Montgomery County, PA:
Andalusia Pa, Bryn Athyn Pa, Bensalem Pa, Bristol Pa, Buckingham Pa,Chalfont Pa, Carversville Pa, Colmar Pa, Cornwells Heights Pa, Croydon Pa, Churchville Pa, Dublin Pa,Doylestown Pa., Fairless Hills Pa, Feasterville Pa, Furlong Pa, Jamison Pa, Langhorne Pa, Lansdale Pa, Lower Makefield Pa, Lower Moreland Pa, Morrisville Pa, New Hope Pa, Newtown Pa, Ottsville Pa, Quaker Town Pa, Richboro Pa, Rushland Pa, Trevose Pa, Tullytown Pa, Warminster Pa, Warrington Pa, Washington Crossing Pa, Wrightstown Pa, Wycombe Pa, Willow Grove Pa, Eddington Pa, Edgely Pa, Fallsington Pa, Feasterville Pa, Holland Pa, Hatboro Pa, Horsham Pa, Huntington Valley Pa, Hulmeville Pa, Ivyland Pa, Levittown, Lower Makefield Pa, Lower Moreland Pa, Solebury Pa, Southampton Pa, Middletown Pa, Northampton Pa, Oakford Pa, Parkland Pa, Penndel Pa, Penns Park Pa, Pineville Pa, Pipersville Pa, Upper Makefield Pa, and Yardley Pa.and surrounding areas near me.
Oil Tank Removal Companies -
Local – Heating Oil Tank Removal & Installation – Near Me – In My Area