Chimney Repair Services
New Chimney liners can help prevent catastrophes
We service all of Bucks County, including Bensalem, Bristol, Doylestown, Newtown, Yardley, Morrisville, Langhorne, and Levittown and surrounding area near me.
JC Heating of Levittown Pa. is a CERTIFIED CHIMNEY SWEEP with the prime focus on chimney safety and relining oil-fired, gas-fired and solid fuel appliances. The Clemenson brothers, who own and operate a residential heating oil company, received their chimney service training from the Chimney Safety Institute and became certified in 1989.
Over the course of time, it became apparent that the chimneys serving the home heating system were often neglected and rarely inspected and virtually never cleaned. Most homeowners are aware of chimney problems with wood-fired appliances, but don't give a second thought to the central heating system. In fact, most homeowners believe the oil companies address it during the annual service, most only check the chimney base where accessible and not the entire chimney.
The introduction of high efficiency residential heating equipment and their new low stack temperatures created a problem. Condensation would occur in the area where the chimney would pass into the unheated attic or through the roof line. This condensation would combine with the sulfur in the fuel and create a sulfuric acid that would leech through the chimney and often be mistaken for a roof leak. The aicd would break down the tile flue and cement that bonds the flues together thereby damaging the chimney.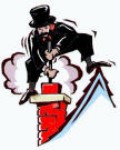 Chimneys Are Made To Protect You
Remember, The main purpose of a chimney is to vent the products of combustion from your home. That function is crucial because the products of combustion contain hazardous and noxious gasses. One of the hazardous gasses your chimney needs to remove from your home is carbon monoxide.
Carbon monoxide is a colorless, odorless, tasteless gas that can cause serious illness or death when it is present in sufficient amounts. It is responsible for hundreds of deaths and countless illnesses every year in homes across America. In many causes carbon monoxide in the home originates in a furnace or other burning appliance and finds its way into the house due to inadequate venting.
What causes inadequate venting? There are several possibilities. One is that the flue has become blocked. The blockage can come from debris falling into the chimney due to a deteriorating masonry chimney, or it may be the result of nests built there by animals or birds. Carbon monoxide can also seep into the house through cracks or holes in flues and chimneys that moisture, chemical residue, or chimney fires have damage.
Even without the occurrence of a chimney fire, framing members surrounding a chimney can have their molecular structure altered and become more flammable when exposed to excessive heat over long periods of time. This process is know as pyrolasis. Once wood is sufficiently pyrolized it can ignite at relatively low temperatures and become a significant fire hazard.
The inspection of a chimney prior to the installation of new high efficiency equipment is necessary for a successful job. The manufacturers of the system require a specific size flue. A system with a six inch flue will not properly vent into a chimney with an 8 by 12 inch flue tile. The new lower stack temperatures and the nearly four times flue ratio will certainly cause operating difficulties and condensation problems. The liner may be insulated to help keep the flue gases warm while rising through the chimney. A lightweight insulation cement may be added to strengthen older weak chimneys.
Equipment installers need to educate homeowners about the potential negative impact that modern equipment may have on a 40-year-old chimney. It is a fact of physics that a lower stack temperature gas rising through a larger vertical flue will cool and condense creating sulfuric acid. This condensation can be so extreme that symptoms may manifest within weeks of installations. The National Fire Codes ( NFPA 31 ) contains sizing charts for chimney relining. Including the cost of the chimney liner in the initial investment will add to the expense of the project, but it will also insure years of trouble free venting and extended life of your chimney.
After the installation of a chimney liner the oil burner or gas burner will need to be readjusted to account for the changes in draft created by the new liner. The installer will need a combustion test kit, these kits often cost a $1,200 or more. Be sure your installer has the proper test equipment to complete the job.
Our CSI Certified Chimney Sweeps use state of the art equipment, complete with a lighted camera and video monitor. We look for any problems that may affect the safety of your chimney.
Chimney Cleaning, Chimney Caps, Chimney Inspections & Chimney Repairs
We're proud to provide chimney inspection, repairs & chimney liners installation to the following communities in Bucks County, PA:
Andalusia Pa, Bensalem Pa, Bristol Pa, Churchville Pa, Cornwells Heights Pa, Croydon Pa, Doylestown Pa., Fairless Hills Pa, Feasterville Pa, Furlong Pa, Jamison Pa, Langhorne Pa, Morrisville Pa, New Hope Pa, Newtown Pa, Richboro Pa, Trevose Pa, Tullytown Pa, Warminster Pa, Washington Crossing Pa, Wrightstown Pa, Wycombe Pa, Buckingham, Eddington Pa, Edgely Pa, Fallsington Pa, Feasterville Pa, Hatboro Pa, Horsham Pa, Holland Pa, Hulmeville Pa, Ivyland Pa, Levittown, Southampton Pa, Middletown Pa, Morrisville Pa, Northampton Pa, Oakford Pa, Parkland Pa, Penndel Pa, Wrightstown Pa and Yardley Pa. near me.