48 Years of Experience!

Call Us Today! 215-945-4833
Today's oil boilers are much more efficient and versatile than equipment available even 5 or 10 years ago. Many have efficiencies that are greater than 88% and may be eligible for federal tax credits. New systems can work with existing or new steam, hot water baseboard, radiant, or air handler systems. If you own a home or business in Bucks County Pa.
call JC Heating & Cooling to either service your existing oil boiler or install a new high efficiency oil heating system.
JC Heating is Your Weil McLain Factory Authorized Dealer
Weil McLain Oil Boiler Installation & Repairs in Levittown Pa. and surrounding areas.
Say goodbye to odors and soot.
Oil Fired Hot Water Boilers
Weil McLain boilers are designed for long lasting performance and fuel savings. Constructed of durable cast iron, our high efficiency oil and gas boilers deliver quiet, consistent warmth.
Weil McLain Oil Fired Boilers, Hot Water and Steam Boilers for homes that have chimneys.
The Weil McLain boiler provides hot water heat in a variety of sizes (from 99,000 to 257,000) heating capacity BTU/HR) (.95 to 2.25 GPH) to service a wide range of homes. An approved chimney is required.
The boiler design is proven in service to be reliable. It is easy to maintain and economical in its purchase price and fuel consumption. The boiler can be ordered with flame retention Beckett, Carlin or Riello oil burners.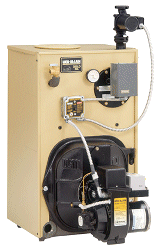 The Weil McLain oil boiler has a wet base design which the heat exchanger surrounds the combustion chamber on all sides to provide optimum heat transfer. The result is lower fuel cost.
Weil McLain boilers ...the latest in a series of designs that is constructed for long life and designed to provide the most value for each energy dollar. That's our commitment to quality.
Durable Cast Iron
Top Cleaning - Easy Access to all flue passages
Service Switch and Junction Box
Beckett Flame Retention Oil Burner
Carlin Flame Rentention Oil Burner
The boiler features a swing-open burner door that gives full access to the combustion chamber and burner nozzle. Flue ways can be visually inspected without taking apart the vent pipe by removing the jacket cap and flue outlet cap from the unused flue outlet. Removing the flue collector hood provides complete access to all flue ways for fast, through cleaning. And the placement of the heat pins provides specific paths for flue brush travel.
TANKLESS HEATERS

Tankless Heater for plenty of domestic hot water
Increased Heater Capacity, up to 33% more hot water
Saves valuable space
Ask About Our Money Saving Service Agreements
Licensed, certified heating repair specialists, all home heating systems makes and models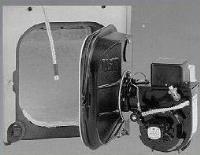 Swing away Burner Mount Door for ease of service
Allows easy access to Combustion Chamber Area
Quick disconnect plug for serviceability
Call and make an appointment that's convenient for you. We'll show up on time, listen to your needs, see what it is involved in your home heating repair project, make recommendations and prepare pricing by the job, not by the hour, so there are no surprises.
Ask about our low monthly payment plans
$0 down and attractive financing options, for qualified customers!
Payments vary; subject to credit approval.
Call JC Heating for a free installation estimate
Serving all of Lower Bucks County, Pa.
215-945-4833 OR 215-493-7455
For over 48 years we're proud to provide Weil McLain Oil Boilers repairs, sales, installation and service to the following communities in Bucks County & Montgomery County, PA:
Bensalem Pa, Bristol Pa, Buckingham Pa, Chalfont Pa, Cornwells Heights Pa, Croydon Pa, Doylestown Pa., Eddington Pa, Fairless Hills Pa, Feasterville Pa, Furlong Pa, Hatboro Pa, Holland Pa, Horsham Pa, Huntington Valley Pa, Jamison Pa, Langhorne Pa, Levittown Pa, Morrisville Pa, New Britain Pa, New Hope Pa, Newtown Pa, Penns Park Pa, Pineville Pa, Richboro Pa, Rushland Pa, Solebury Pa, Trevose Pa, Tullytown Pa, Warminster Pa, Washington Crossing Pa, Wrightstown Pa, Wycombe Pa, Willow Grove Pa, Eddington Pa, Edgely Pa, Fallsington Pa, Hulmeville Pa, Ivyland Pa, Southampton Pa, Solebury Pa, Middletown Pa, Northampton Pa, Oakford Pa, Penndel Pa., Wrightstown Pa. and Yardley Pa. and surround area near me.