Heat Pump Helpers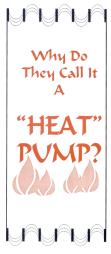 It's not your imagination. Just when you need it the most, your heat pump does less.
A heat pump works basically by extracting heat from air. The trouble is, when it's very cold outside, there isn't much heat to extract. So just when you need your heating most, it can't do much for you. It is obvious that your need for heat rises as the outdoor temperature declines. Unfortunately, your heat pump's ability to generate BTU's drops right along with the temperature. The colder it gets, the less heat it delivers! That vicious circle has many households shivering all winter.
When your supplemental system kicks in, your electric bill bites back!
The builder of your home most likely knew your heat pump couldn't do the job in winter. That's why there's probably a supplemental electric resistance back-up system. That's the least expensive back-up system for the builder to install, but it sure isn't the least expensive to use, is it? After you got your first few winter electric bills, you turned the thermostat down a notch or two. And there you sit. Never really comfortable all winter in that lovely house you bought.
Why you feel cold with a heat pump, even when the thermostat says you shouldn't.

The typical electric heat pump produces air warmed to an average temperature of about 82 degrees. That's substantially below human body temperature. That air just doesn't give a house a really warm, cozy feel. The average oil-fired hot air system generates air warmed to about 120 to 140 degrees, or well above body temperature. This makes you feel really warm and comfortable. It's just that simple.
Introducing the Heat Pump Helper!
At last, help has arrived from JC Heating. We have developed a Heat Pump Helper program that offers the best of both worlds: all the toasty comfort of oil heat all winter, and the effectiveness of your heat pump for air conditioning in summer. It's as easy as adding some heat to the air coming out of your heat pump so you feel really warm for the first time!
You'll be amazed at how simple the remedy is.
At the hearth of your new Heat Pump Helper system will be a very efficient oil-fired hot water heater or boiler. which will replace your expensive, energy-gobbling electric model. In winter, it will also help heat your house by circulating hot water through a Fan Coil Unit, which will also be added to your system, (see diagram below). The fan will blow air across the water-coil and into your existing heat ducts - not at anemic temperatures produced by your heat pump, but up to 140 degrees! This much warmer air will make your whole family feel really comfortable for the first time, even on the coldest days. And while the Heat Pump Helper employs the latest technology, making it amazingly efficient, compact and easy to vent, it is extremely reliable. An oil-fired water heater or boiler has been the best and most dependable way of heating water for many years.
And that Heat Pump Helper actually pays for itself!
Are you ready for the part that seems to good to be true? Fact is, you'll save so much in electricity usage that you'll pay for your new Heat Pump Helper equipment in just a few years. Because getting rid of your electric water heater may reduce your electric bill by as much as one half! And that's not all. JC Heating makes it even more easier to afford the Heat Pump Helper with very attractive financing. So, you may find your monthly payment for the new equipment is offset by your monthly savings on your electric bill. It could be like getting all that cozy comfort, and make extra hot water, free!. And after the equipment is paid for, you'll put the savings in your pocket for many years to come. An oil-fired water heater or boiler is more rugged and durable than its electric counterpart, so you'll go on saving for a long, long time.
Typical Household Savings with the Heat Pump Helper
Savings by heating water with oil instead of electricity:
$350
Savings generated by using oil instead of electricity for back-up: heating.
$1,000
Total average yearly savings per household:
$1,350.00
Note: Based on a 2,000 to 2,500 sq. ft. home. Actual savings will vary.
The wonderful hot water bonus.
Your new oil-fired hot water heater will not only keep your whole house satisfyingly warm, it will also deliver an almost inexhaustible supply of hot water to your bathroom and kitchen - usually four times more than at present! Nothing is as fast at heating water as oil, because nothing burns hotter. The typical electric hot water heater delivers at a rate of only 20 gallons per hour, while your new oil-fired model produces at least 90 gallons per hour! You'll be able to enjoy the luxury of virtually endless showers!
Who says oil and water don't mix?
Of the available home heating energy sources, nothing heats water as fast and efficiently as oil. That's because home heating oil burns at 2200 F, while even natural gas only burns at 1800 F: Electricity? It's only 37% as efficient as oil. That's because of the hued energy loss at the power plant, converting to electricity, its electricity and water that really don't mix!
You have nothing to loss but your earmuffs.
So what are you waiting for? Haven't you had enough of the heat pump shivers, especially when it's so easy and financially painless to get rid of them?
Call JC Heating for full details, and get your Heat Pump Helper installed before the next cold snap.
Sales or Service 215-945-4833 or 215-493-7455
If you need a qualified hvac contractor for your next system you come to the right place
We're proud to service the following areas in Bucks County, PA:Bensalem Pa, Bristol Pa, Buckingham Pa, Chalfont Pa, Cornwells Heights Pa, Croydon Pa, Doylestown Pa., Eddington Pa, Fairless Hills Pa, Feasterville Pa, Furlong Pa, Hatboro Pa, Holland Pa, Horsham Pa, Huntington Valley Pa, Jamison Pa, Langhorne Pa, Levittown Pa, Morrisville Pa, New Britain Pa, New Hope Pa, Newtown Pa, Penns Park Pa, Pineville Pa, Richboro Pa, Rushland Pa, Solebury Pa, Trevose Pa, Tullytown Pa, Warminster Pa, Washington Crossing Pa, Wrightstown Pa, Wycombe Pa, Willow Grove Pa, Eddington Pa, Edgely Pa, Fallsington Pa, Hulmeville Pa, Ivyland Pa, Southampton Pa, Middletown Pa, Northampton Pa, Oakford Pa, Penndel Pa., Wrightstown Pa. and Yardley Pa..