Duct Testing, Installation & Repairs
Studies indicate that 10%-30% of the heated or cooled air is lost-along with the money spent to heat or cool that air-through leaky ducts. Properly sized, installed, and sealed ductwork will make your heating and cooling systems significantly more efficient. Energy loss is not the only concern. Duct systems can also involve the comfort of your family, employees, tenants, or customers as well as indoor air quality. Testing the ducts will locate leaks or damage and focus repair work in the right areas.
Your Duct System
In most residential and small commercial central heating and cooling systems, the conditioned (heated or cooled) air is delivered to each room through supply ducts and returned through the return duct to the furnace or air conditioner. The condition of both sections of this ductwork is vital to the overall efficiency of your heating or cooling system.
In some buildings, air escapes through poorly connected, disconnected, or deteriorated ducts, which can result in little conditioned air actually reaching your little conditioned air actually reaching your living or work space, leaving the room area to warm or to cold. If the return duct system is leaking, it could be drawing
outside, stale or polluted air and distributing it throughout the building; this air could come from the attic, crawl space or combustion air from a furnace, clothes dryer, stove or water heater. If the supply duct system is leaking, the building can become depressurized, and air from the outside may be drawn into the ducting and distributed into the building. Either situation may decrease the quality of the indoor air.
How do I know if my duct system is in good condition?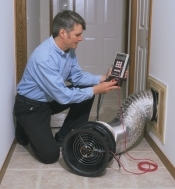 The reliable and cost-effective way to find out is to have a duct test. Duct testing
uses a calibrated fan that gently pressurized the ducts and measures the airflow throught the ducts to indicated total leakage. The duct tester consists of a portable fan with calibrated digital pressures gauges that is connected at the blower compartment of the air handler or attached to the main return air grille. The fan pressure is read from the gauges and converted to an equivalent duct leakage rate in cubic feet per minute(cfm). If the amount of air loss falls outside acceptable limits, sealing will be required to correct the condition. This method of testing is preferred, because it measures low air flow accurately and simulates what takes place under normal operating conditions.
While some joints or seams may have small leaks, other sections may be completely disconnected. Duct testing can indicate the relative leakiness of the ducts and help determine whether the duct system should be sealed, repaired or replaced.
By custom fabricating sheet metal duct work, we can quickly and efficiently build any necessary parts of duct to modify and enhance the performance of your system. Even if your entire duct system needs replacement, we can design and fabricate a new system.
Poorly installed and leaky ductwork can account for up to 30% of your heating and cooling cost
We offer repair service to seal up those leaky ducts to save you money. We are fully licensed and insured.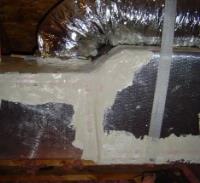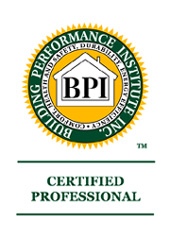 How do I get started?
Call our Service Department and we can schedule an energy audit.
215-493-7455
We duct testing service in Andalusia Pa, Bensalem Pa, Chalfont, PA; Croydon, Churchville Pa, Cornwell Heights Pa, Doylestown Pa, Furlong Pa, Levittown, PA; Langhorne Pa, Lower Makefield Pa, Yardley, PA; New Hope Pa, Newtown, PA; Newportville Pa,Tullytown, PA; Bristol, PA; Hatboro Pa; Hartsville Pa, Horsham Pa, Holland Pa, Huntington Valley Pa; Ivyland Pa; Jamison Pa; Parkland Pa,  Pineville Pa; Penns Park Pa; Pennwood Crossing Pa; Penndel, PA; Fairless Hills, PA; Lahaska Pa; Langhorne, PA, Lower Makefield Pa, Lower Moreland Pa,  New Hope Pa, Morrisville Pa; Fallsington PA; Penn Valley, PA Upper Makefield Pa, Richboro Pa, Rushland Pa, Trevose Pa, Solebury Pa, Warrington Pa, Warminster Pa, Washington Crossing Pa,  Yardley Pa, and surrounding communities. So when you ask to find "A good local heating and air conditioning repair or service company near me," you've come to the right place.
For over 48 years our skilled team has been providing HVAC services to the Lower Bucks County an surrounding area near me.