What Every Customer Deserves... the Very Best!
As the heating season begins, you are probably wondering whether or not oil
prices are going to be higher or lower in comparison to last year.
The Truth is, as much as we like to be able to predict how much oil is
going to cost this year, there is no way to tell. We can tell you one thing with
great certainty - we remain dedicated to keeping you warm and comfortable
this heating season, as we have every heating and cooling season.
Keeping you warm and comfortable isn't just about delivering oil to your tank.
It's the philosophy that we, as your full service Oil-heat Dealer, live by. That
means providing around-the-clock emergency service, so you'll never be stuck
in a cold house... offering you automatic delivery, so you'll always have the oil
you need... and treating you with prompt, personal attention and respect.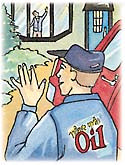 When the mercury drops, we at J.C. Heating rise to the occasion in order to
ensure our customers complete comfort and satisfaction... because we feel
you deserve the very best.