Attic Ventilator Fans & Solar Attic Fans - Repairs & Installations
Save up to 1/3 on Cooling Cost
"Studies show a savings of up to 30% with a powered attic fan."
Take a load off your air conditioner
Have you ever been in your attic in the middle of the summer? It's HOT! That's why you need an attic ventilator. Assisting your air conditioner in cooling your home and in lowering your utility bills, an attic ventilator exhausts the hot air from your attic and brings in cooler air from the outside. This circulation of air greatly reduces the heat load on your home allowing your air conditioner to work more efficiently and to cool your home faster. Adding an attic ventilator to your home will save you money and make you more comfortable.
The National Bureau of Standards:
"Attics can reach 80 degrees hotter than outside air"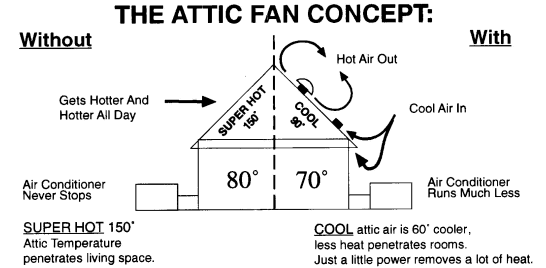 Attic temperatures can get up to 150 degrees without an attic fan. Attic fans create a positive air-flow through your attic that does not rely on wind or require excessive passive venting. Excessive passive venting can cause excessive moisture infiltration in form of snow or rain. The attic fan is normally mounted up on the roof of the home toward the back about two feet down from the peak. It goes on and off automatically with a thermostat, so it only runs when it is beneficial. The attic fan has a flashing that fits in with the shingles and is water-proof. Attic fans use less than 100 watts and offer these important advantages:
Lowers upstairs room temperatures by 10 degrees.
Lengthens roof life by keeping shingles cooler.
With an optional humidistat, keeps attics dry during winter months.
Saves up to 30% on air conditioning cost.
The exact savings obtained depends on several factors like: the color of your roof, if the home is shaded, the amount of insulation you have, and the efficiency of your cooling system. Ideally, A high quality attic fan installation will pay for itself within 3 years. A high quality attic fan is recommended. A heavy screen is required to keep out pests. All metal construction is preferred as plastic fans do not hold up as well and over time will crack. A quality thermostat is also essential to save yourself from climbing up into the attic to resetting. A firestat, which shuts the attic fan off for extremely high temperatures, is needed in case of a house fire. A permanently lubricated motor, ensures quiet, maintenance-free operation.
When your attic is cooler, everything just works better
Attic Roof Fans
Gable End Fans
Solar Attic Roof Fans
For more information on sales, service and installations contact our Service Department at 215-945-4833.
JC Heating for over 48 years a name you can trust
We're proud to provide Solar ATTIC Fan Repairs & Installations to the following communities in Bucks County, PA:
Bensalem Pa, Bristol Pa, Churchville Pa, Cornwells Heights Pa, Chalfont Pa, Croydon Pa, Doylestown Pa., Fairless Hills Pa, Feasterville Pa, Furlong Pa, Jamison Pa, Langhorne Pa, Morrisville Pa, New Hope Pa, Newtown Pa, Richboro Pa, Rushland Pa, Trevose Pa, Tullytown Pa, Warminster Pa, Washington Crossing Pa, Wrightstown Pa, Wycombe Pa, Buckingham, Eddington Pa, Edgely Pa, Fallsington Pa, Feasterville Pa, Holland Pa, Hulmeville Pa, Ivyland Pa, Levittown, Southampton Pa, Middletown Township Pa, Northampton Twp. Pa, Oakford Pa, Penndel Pa, Wrightstown Pa and Yardley Pa.